Each year the Student Recreation and Wellness Center (SRWC) hosts the Owen's Condition for Tuition challenge. By completing the challenge, participating undergraduate and graduate students who finish the challenge are automatically entered into an opportunity drawing to win a semester's worth of free undergraduate-level tuition! Last spring, the Owen's scholarship was awarded to Raya Torres, a current sophomore majoring in journalism.
"When they said my name, I was jumping up and down. I was so excited and happy. It was such a huge help," Torres said, "As an international student I pay out of state tuition, so this was a big chunk I didn't have to pay for. I am going to do my best to be really good in school to make the most out of the scholarship I was given."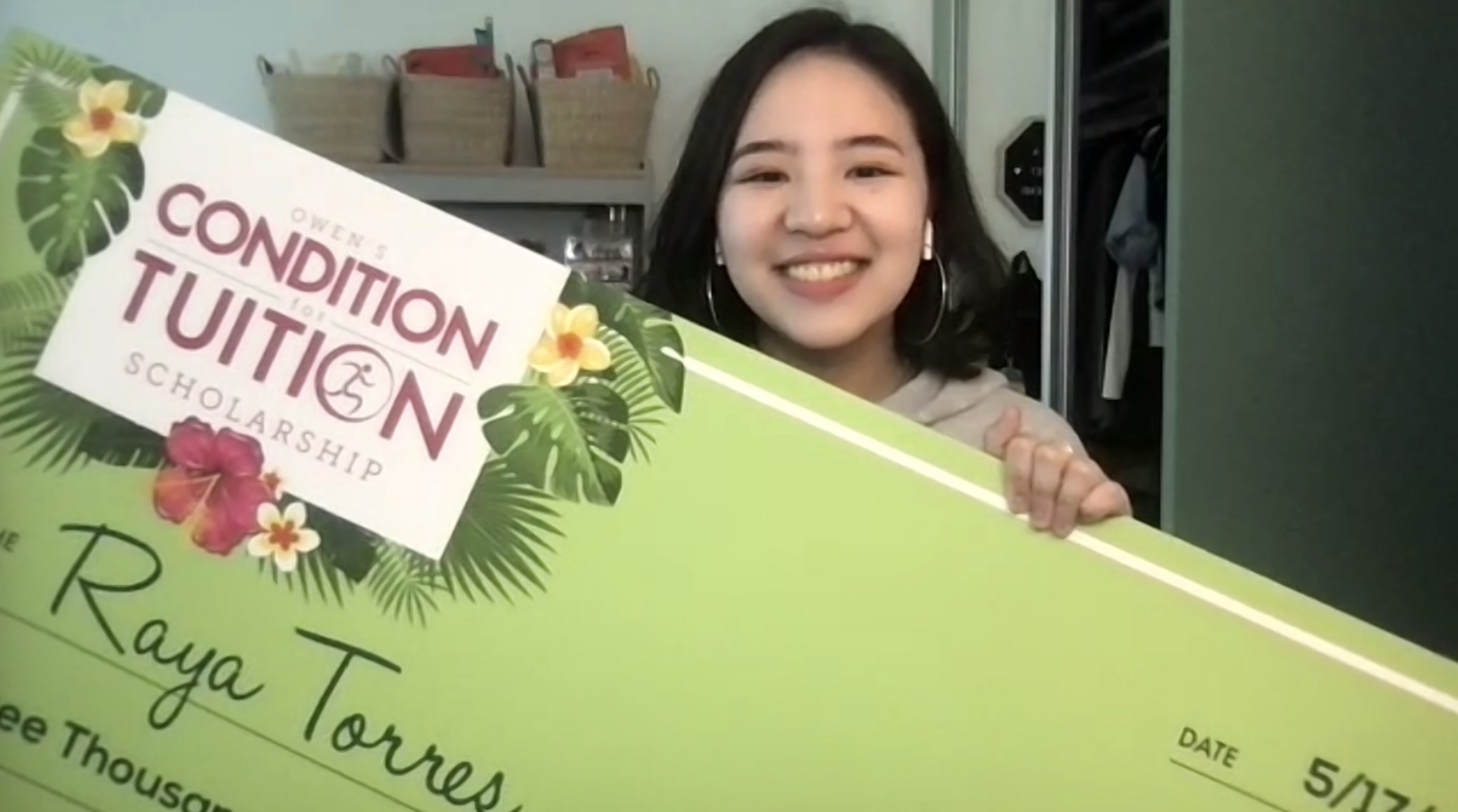 Torres in her dorm room with the Owen's Condition For Tuition scholarship check. Photo credit Raya Torres.
Torres was a freshman when she started Owen's Condition for Tuition. She initially found out about the challenge during her online freshman orientation, from her SOAR mentor, Jordan Eres. After she won the Owen's scholarship, Torres sent Eres a prompt thank you email.
"I was like, 'You know what? I got nothing to lose.' I needed some sort of motivation to be active, so it just became a regular thing for me," Torres said.
Due to the ongoing pandemic, Torres participated in Owen's virtually and completed workouts from her home in the Philippines. She logged points online and emailed the SRWC exercise photos. She did targeted workouts for specific body parts, danced to hip hop songs, followed along with YouTube exercise videos, and took online Zumba classes. Her dedication paid off in Owen's points and also inspired her family to become more active.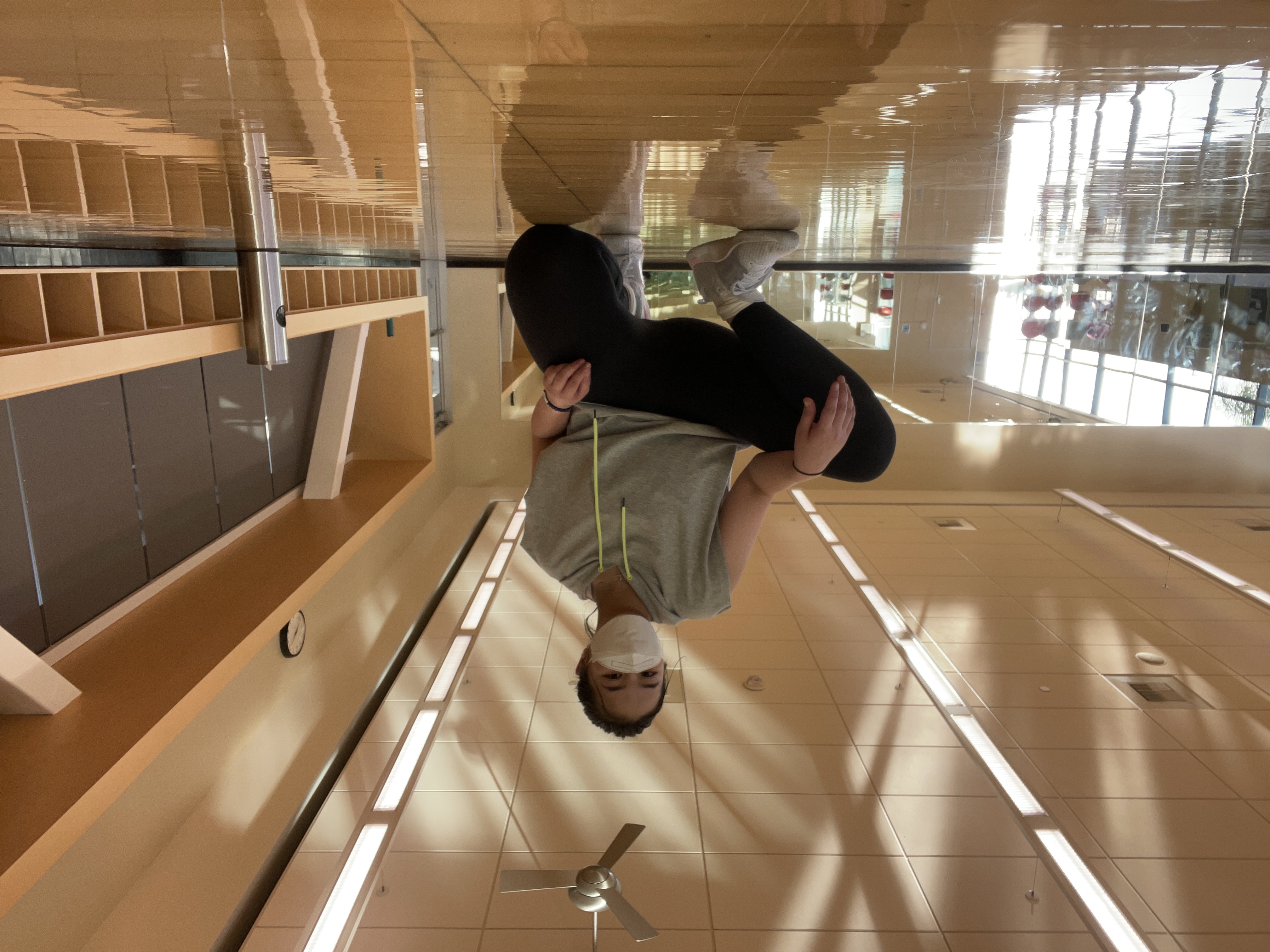 A natural dancer, Torres is a frequent user of the SRWC's upstairs fitness rooms. Photo credit Raya Torres.
"Family workouts became a habit after my brother saw me exercising. This entire thing was a blessing all over honestly, because I was able to bond with family through it," Torres said.
Owen's helped Torres find a work-life balance as a virtual student, and helped her feel connected to Long Beach, even though she was more than seven thousand miles away. It also gave her a way to unwind and destress when she felt overwhelmed with responsibilities. Although it started with the incentive of free tuition, her motivation to workout continued even after the program ended. Today, Torres has a regular workout habit that she attributes to the challenge.
"I'm very grateful that Owen's was built on the foundation to have a healthier lifestyle. And I definitely think I've achieved that," Torres said. "Honestly, it has made me a better college student because it's helped me find balance between my health, studying and being social."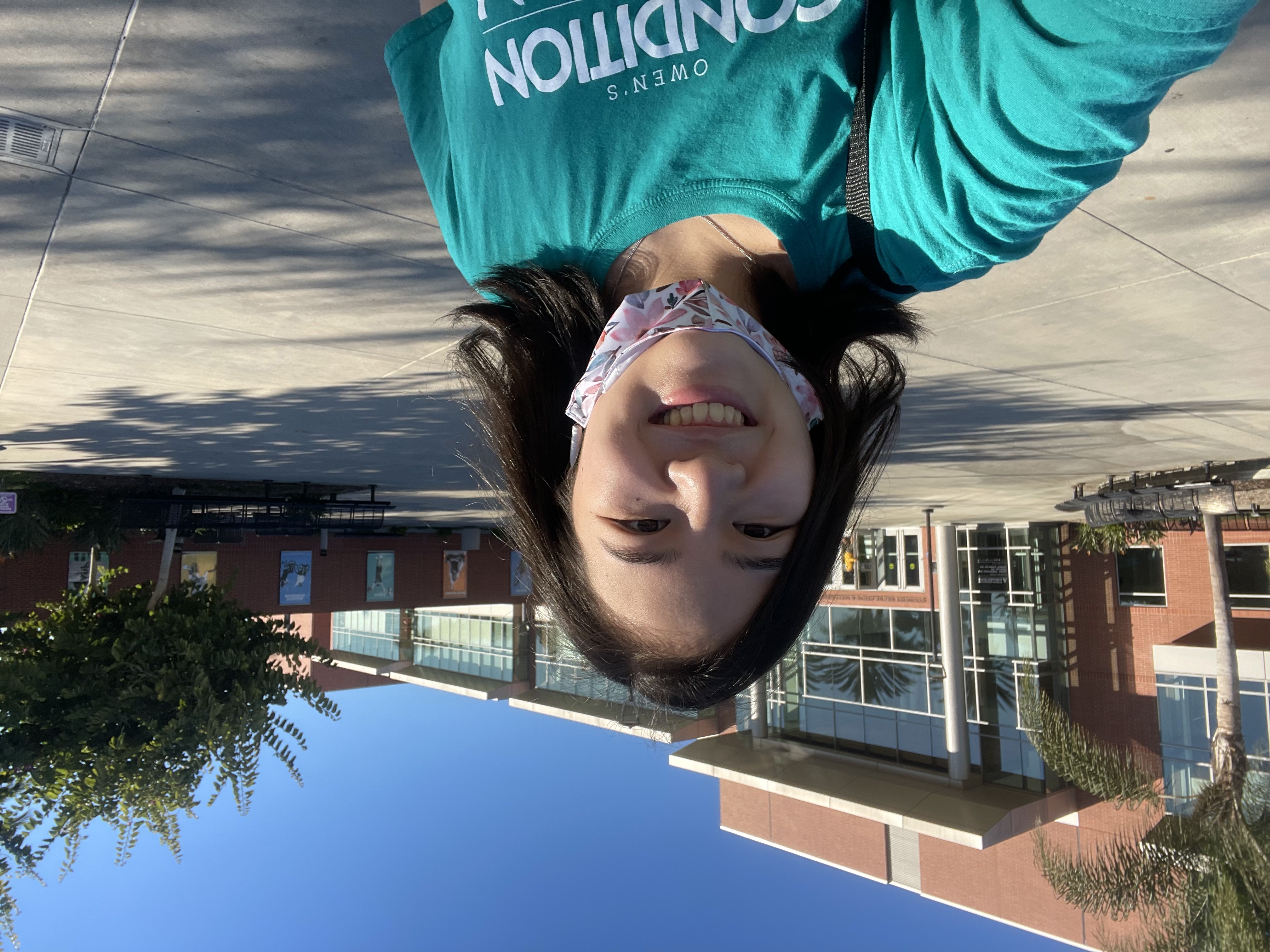 Sporting her Owen's Condition For Tuition finisher's t-shirt and a big smile, Torres heads to the SRWC for a workout. Photo credit Raya Torres.
For students interested in Owen's Condition for Tuition, Torres recommended setting aside time for health and wellness, finding activities you actually enjoy doing, and walking more throughout your day. She also added that you should listen to your body when it's telling you it can push through soreness, or that it needs time to recharge. At the end of the say, Torres reminds us that fitness and wellness are most rewarding when they are accompanied by good intentions and a proactive mindset.
"I would like to give thanks to the Owen's family because this program seriously changed my life. I was getting out of high school and a little intimidated about finding time for exercising," Torres said. "It kept me motivated to keep my physical and mental health in check. And I believe that exercising has made me a lot happier. "
Read more about Owen's Condition for Tuition and how to participate at asirecreation.org/owens.