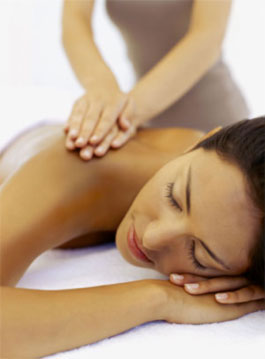 Beach Balance's licensed massage therapists offer a variety of massage modalities that help release stress, relieve muscle pain, and improve well-being. Massages are offered at the SRWC Beach Balance location. 
General Massages
Deep Tissue massage is a muscle-specific modality that involves slower strokes, and uses direct pressure. Deep Tissue massage reaches all layers of the muscle and allows layer by layer penetration. This type of massage is great for chronic pain or overuse injuries. There should be no pain during the session, but the client is often sore for a few days following the treatment which can be soothed by using ice packs.
Hot Stone Therapy massage melts away tension, eases muscle stiffness and increases circulation and metabolism. Promotes deeper muscle relaxation through the placement of smooth, water-heated stones at key points on the body.
Swedish massage uses rhythmic and flowing strokes to stimulate the system and to relieve muscle tension and sore joints. It relaxes the body and the mind. Swedish massage can be performed with a light or heavy hand.
Specialty Massages
Cranial Sacral Release Therapy is a very gentle and non-invasive form of massage that works with the cranial bones, the spinal column and the sacrum to balance energy as well as the flow of cranial saral fluid. This massage is often used to treat headaches, restlessness, insomnia, sinus pressure, and ear aches.
Neuromuscular Therapy is an integrative approach to resetting muscle firing patterns that limit activities or general range of motion.
Pre-Natal Therapy is a nurturing, relaxing massage for expecting mothers. Targets chronic hip and back pain as well as decreasing stress and increasing blood flow.
Reflexology Therapy involves pressure point relexes in the hands and feet that correspond to every part, organ, and gland in the body to improve circulation, detoxification, and to reduce tension on the body's ablility to heal itself.
Acupressure Massage is an ancient Chinese healing method that involves applying pressure to certain meridian point on the body to relieve pain such as backache, headache, neck pain, and anxiety.
Sport Massage is a great treatment for Pre-Event to complement a warm-up and prepare the muscles for intense activity. Post-Event to flush lactic acid that built up during the activity to help prevent muscle soreness, cramps or spasms, and also help to promote rapid removal of waste and toxins that have built up in the muscles from the recent exertion.
Stetching Massage is assisted deep tissue stretching to optimize muscle, tendon, ligament, and joint health in order to prevent sport injuries and increase mobility / flexability.
Aromatherapy utilizes essential oils to heal the body and mind. Great for stress reduction and promoting positive feelings.
Cupping Therapy Increases circulation and decreases tension using plastic therapy cups. 
Pricing
| Massage Length | Student | SRWC Member | Non-Student |
| --- | --- | --- | --- |
| 30 minutes | $25 | $30 | $35 |
| 60 minutes | $47 | $55 | $65 |
| 90 minutes | $70 | $80 | $90 |
*Eligible non-members are individuals associated with the campus community that do not have an active SRWC membership. Must purchase a $10 day pass in addition to the massage fee. To find out more about SRWC memberships, please visit: https://asirecreation.org/membership 
Hours
Charleson Augustin
Wednesday & Friday: 1pm – 6pm
Massage Etiquette
Arrival - First time clients are asked to arrive at least 15 minutes early prior to a scheduled massage to fill out and sign some forms. If you are late, keep in mind it may shorten your length of treatment as to not inconvenience other clients. We regret that late arrivals will not receive an extension of scheduled appointments.
Cancellations -We respect your time and appreciate your service at Beach Balance. However, if needing to cancel, please let us know 24 hours before your appointment. If done less than 24 hours after the first offense or you do not show without notice, a $25 dollar charge will be on your SRWC account.
Showering- We understand that we are in a fitness facility and you may also be working out prior to your massage. Please be considerate to your massage therapist by showering after your workout / before your massage.
Inappropriate Language and Actions- Beach Balance professional therapists are certified by the State of California. All massages are therapeutically oriented and non-sexual. Any remarks or gestures made by a client and interpreted by the therapist as harassment or sexual in nature will result in the immediate termination of the session without refund.
Tipping- Though tipping is appreciated among Massage Therapists, it is not expected among any customer. If you would like to leave a tip, please deliver it directly to the therapist. Beach Balance staff is not permitted to handle any cash.
To schedule a

massage

, contact SRWC Beach Balance at (562) 985-0763. Appointments must be made 24 hours in advance.