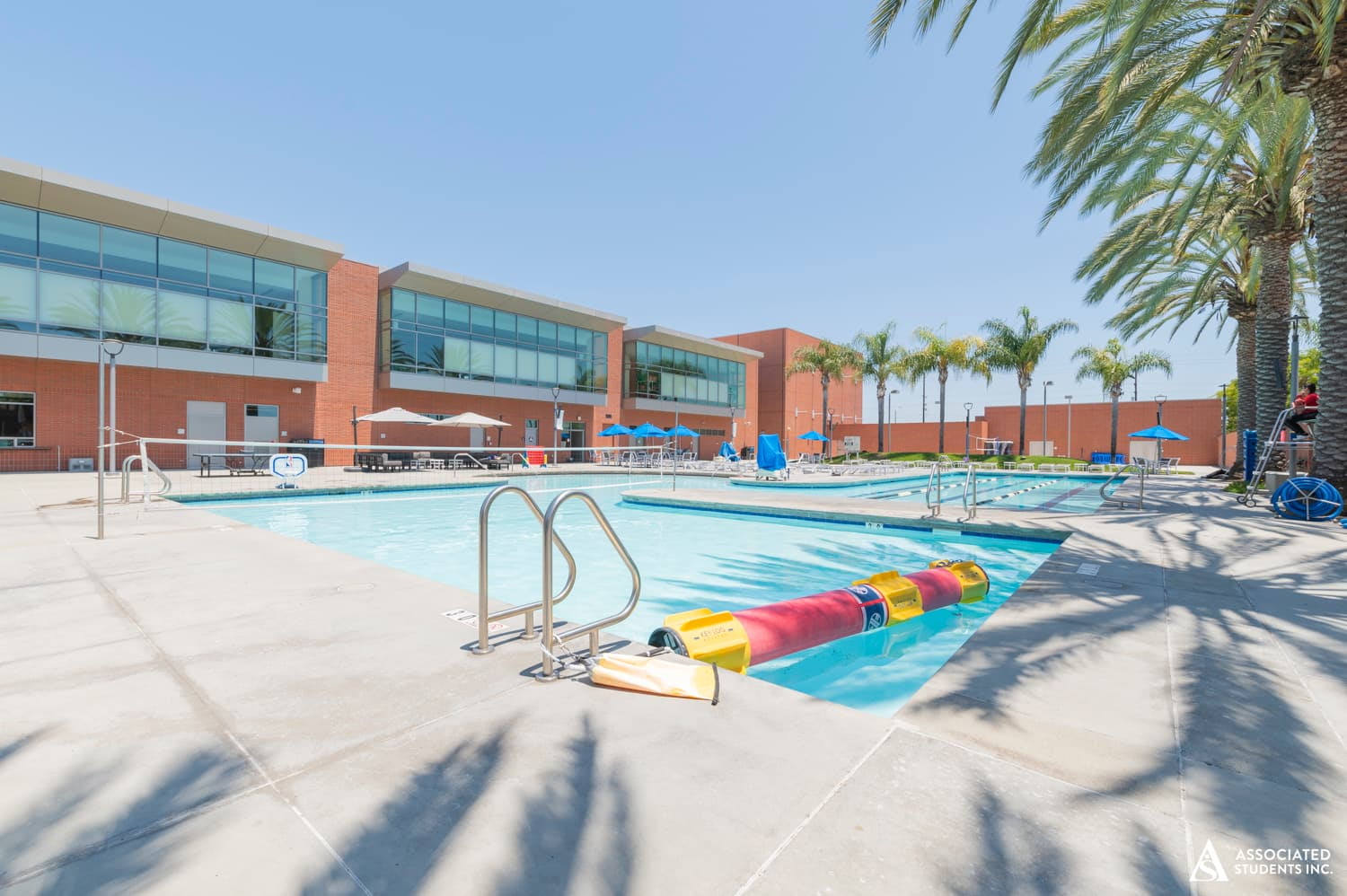 No one is allowed in the Aquatics Center without the presence of an SRWC lifeguard.
All guests must shower thoroughly for 20 seconds to remove all sand, lotions, and similar products before entering pool or spa and after reapplication of said products.
No bikes, scooters, skateboards, or non ADA needs transportation devices of any kind are allowed in the Aquatics Center.
Food, beverages, and gum should only be consumed at the designated areas of the Aquatics Center and must be properly thrown away upon finishing.
No glass containers of any kind are allowed in the Aquatics Center.
Aquatics Center furniture may not be reserved by placing towels and belongings on them and may not be moved without permission of staff to ensure ADA and fire code standards.
Prolonged underwater swimming or breath holding is prohibited.
Horseplay actions such as running, diving, head-first entries, continuous jumping, or lifting others higher than waist high in the water are prohibited.
Cut offs, color t-shirts, undergarments of any kind, mesh and/or basketball shorts are prohibited in the pool and spa.
Floating devices including rafts, beach balls, surfboards, or similar beach equipment are prohibited in the Aquatics Center.
Guests with open wounds, respiratory illnesses, and other conditions that are infectious or communicable are prohibited in the pool and spa.
The use of inappropriate or foul language anywhere within the Aquatics Center is prohibited.
Swimmers are to circle swim and are limited to 20 minutes when the pool becomes crowded during lap swim hours.
All non-swimmers must remain in the shallow area of the pool past the blue break point line.
Guests who are pregnant, taking medications that cause drowsiness, or diagnosed with high blood pressure or heart conditions should not enter the spa without consulting a licensed medical physician.
Patrons must not block spa or pool stairs by sitting or leaving personal belongings in entrance path.
Volleyball court reservations are limited to 3 games at a time per group with up to an 11 rally point maximum.
If volley or aquatic ball goes over the facility wall or into lane lines while others are swimming more than 3 times during play of the game it must be concluded immediately.
Patrons must rinse off equipment after use before returning to storage to ensure the equipment life.
Do not talk to guards on duty. All guests must obey the management and lifeguards.
Patrons must leave the Aquatics Center through the locker rooms, unless in case of an emergency.
In an emergency, contact a lifeguard and call 911 from your cell phone.
When you hear one long continuous whistle, you are to exit the water immediately.